'People should learn this from the beginning'
said the legendary violin virtuoso Ruggiero Ricci to his students
Paganini practice technique is a shortcut to violin mastery
Unfortunately beginner students often keep lingering and get stuck
Violinist Vivien Hoffman made Ricci's method accessible for beginners
practice simple left hand pizzicato, stretches, double stops and fast runs
you can get so much faster progress on the violin
Is this you?
Isn't there a faster way?
Why do I keep sounding out of tune?
When can I finally play really interesting repertoire?
Why do I trip over my fingers in fast runs?
I started the violin to express myself in music, but I'm struggling with the technique and sound awful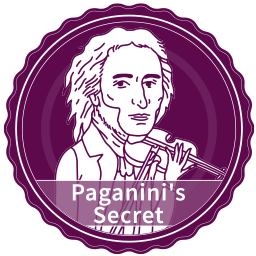 Paganini for Beginners
Virtuoso exercises made simple
A shortcut to great violin playing without selling your soul to the devil
Practice
Learn to practice Paganini style, so you make most of the practice time you have
Exercises
Do laser focussed exercises that skyrocket your violin progress
guidance
Ask questions and send in videos for feedback when and if you want
Without this program I doubt I would have lasted. I would have been getting so frustrated because of lack of progress with my left hand… not knowing how to fix it.
After about two months Paganini's Secret when I opened my eyes, I see different fingers. It looks like a violin left hand that be able to do things some violinist only can do after many years.
Get Started Now
Buy Paganini for Beginners
Lifetime access for just one payment of $ 222
$ 158 USD
Secure checkout
with credit card or Paypal
Risk free
100% satisfaction guarantee
Learn from the comfort of your own home
24/7 Access to your violin lessons
Mobile and tablet friendly
Online learning for music? No way!
We've been trained to think that one-on-one is the highest level of learning when it comes to music, but technology has made it so that we learn even better online.
How does it work?
If you can read a website and watch my YouTube videos, you can follow this course. Right after payment you'll get instant access to ALL available modules with your personal password.
You can play video lessons, practice videos and close up demonstrations. The demonstrations can be looped and played in a slow tempo. You can download the daily practice plans and sheet music. You can ask all your questions and if you want you can send in videos for feedback.
Take the program at your own pace. You've got lifetime access, which means as long as we offer this course you can access all materials and future updates at no extra charge.
Vivien Hoffman
Concert Violinist & Zlata's Teacher
Vivien Hoffman started violin lessons at the age of five and began her studies at the Universität der Künste in Berlin at the age of nine. She continued her studies with Ruggiero Ricci at the Mozarteum in Salzburg and at the Hochschule für Musik 'Hanns Eisler' with Professor Werner Scholz.
Vivien is a rare gem: an international concert violinist with a pure and romantic interpretation style, who knows how to break everything she learned from great masters down into easy to understand lessons and step by step exercises.
Vivien sets herself apart and makes a distinct mark in the music world by an immense versatility. Besides a highly successful international career as a concert violinist she is also an extremely sought after teacher, gives seminars on teaching methods as well as psychological aspects of teaching and performing music, conducts research on psychology and neurology of violin playing and is Associate of the Royal College of Music in London.
Vivien performs all the exercises left handed
so she knows exactly how it feels to be a beginner
Each module of the course includes extensive practice videos, one beginner and one advanced. Here you'll see Vivien practicing the exercises she gives, so you know exactly how to practice effectively to get the best results.
In the beginner practice videos, Vivien uses a left handed violin, so she plays like a beginner. She knows exactly what the specific struggles are as an adult beginner violinist and instructs you how to practice to overcome these struggles and get fast progress.
What Paganini's Secret students say about Vivien:
WOW! How to describe Vivien. Vivien, you are a real gem of a teacher. You are very encouraging. I love how you break down the steps of learning an exercise or technique into manageable bits, makes it less intimidating.
The program is a challenge, but the expectations are gradual, allowing me to feel good about small accomplishments I make.
The practice videos you made playing as a beginner (playing opposite) showing that the struggles are normal, and how to overcome them gives hope, and a 'I can do this' perspective!
The feedback you are providing when I send in a video is priceless. Your instruction and suggestions are excellent. You are helping me improve on practicing the exercises and also my overall playing and practicing in general.
I am looking forward to better intonation, and to learn techniques to improve my ability to play faster passages (which is a real struggle for me) by improving my left hand techniques through the Paganini's Secret program.
Vivien is an AMAZING instructor. She is very thorough and clearly cares about helping her students improve. I am always excited to watch her feedback videos and apply her teachings to my playing.  Her videos keep me busy for a long time and applying the techniques she teaches has really helped to improve my playing overall.
Vivien and Zlata are one of the finest master teachers of the violin. Not only will they get you results: they are very pleasant, dedicated, patient, friendly and open-minded people. No matter your age or background, they will set you in the right mind frame and help you stay motivated and happy even in the most difficult violin times.
Why does it take so long to learn the violin?
Tuned in perfect fifths and governed by the laws of physics with approximately 25 diminishing semitones per string, the violin seems an ideal candidate for systematisation of its technique. However, to date there is no organised playing method that takes advantage of this uniformity.
The 'ordinary method' as Paganini called it, is the long way, in which most students never achieve a high level of violin playing
We train the stronger part of the hand most (first and second finger) in scale exercises and Schradieck exercises. This leaves the weaker part of the hand (third and fourth finger) to always be a problem.
Advanced technique is taught… when you're advanced or never. This leaves you ever unprepared. Double stops, stretches and finger independence will remain a problem.
The violin is taught is a melodic instrument. Every melody, ever distance, needs to be studied separately unrelated to others. We learn to speed this up note for note instead of going for the ultimate speed of several notes at the same time: chords and double stops.
Frequently, in my presence, Paganini has hinted that when he tired of his public career, he may one day be induced to communicate to the world a secret, the existence of which is little suspected by musical conservatories, a secret of such wonderful efficacy that by means of it a pupil may aspire to a degree of perfection unattainable by one who, pursuing the ordinary method, should devote ten years to practice the greater part of each day.
Get Started Now
Buy Paganini for Beginners
Lifetime access for just one payment of $ 222
$ 158 USD
Secure checkout
with credit card or Paypal
Risk free
100% satisfaction guarantee
CURRICULUM
here's what our 12 weeks together will look like
(you get lifetime access, so you can learn at your own pace)
Posture
Students have already said that this little module is worth the whole tuition. In a few videos, you'll get some tips around posture that might really get you unstuck on the violin. Start with the basics to get fast progress.
Warm up & Stretches
We'll start of with a great warm up for the left hand: left hand pizzicato and a G Major scale. Also you'll learn some stretches. The left hand pizz will solve quite some pinky problems and the stretches will make you reach the notes and play in tune better.
Chords
One of the reasons Paganini was such a great violinist is that he also was a guitarist and approached the violin in chords. As a beginner you might think chords are something for advanced players, all while guitarists learn chords from day one. If you postpone chords until you're advanced, they will always be a problem. Chords are great for your intonation and left hand technique in general.
Practicing: the Bow and Intonation
This week you'll learn to practice effectively and focus on one thing without neglecting other aspects of your playing. Also you'll continue to improve on the previous topics.
Double stop arpeggios
This exercise might give you the best results and is the center of this course. With double stop arpeggios you're practicing many aspects at the same time: intonation, hand posture and bow control. If you have little time, do this!
Velocity
These weeks we're focussing on gaining speed all while still playing with good quality. This will definitely help you tackle fast runs.
Double stop melody
We finish the technique part of this course with a beautiful double stop melody in which you can apply, consolidate and improve everything you've learned so far.
Etudes
Every practiced technique and wondered why it goes away when you try to apply it in the pieces you play? Etudes are made to bridge the gap between technique and music. With Sitt etude 82 and Wohlfahrt etude 3 we will help you improve on everything you learned and make you able to apply it in your playing in general. Sheet music is included. We count 4 weeks for the etudes, but you might want to study them longer.
Let's sum it up
here's what you'll get in Paganini for Beginners
Detailed video lessons that give you virtuoso techniques made simple
Valued: $ 500
Feedback on your playing if you choose to send in videos. You'll know exactly if you're doing the exercises right and what you can improve on
Valued: $ 600
Close up demonstrations that you can loop and play at low speed, so you can play along in your practice session
Valued: $ 200
Daily practice plans, so you start of your practice with clarity
Valued: $ 50
Practice videos of Vivien showing you exactly how to practice as a beginner (she plays left handed, so she knows what you're going through
Valued: $ 200
Ask your questions inside the program and connect with other students who are going through the same
Valued: $ 100
A shortcut to violin technique, so you can play the music you love beautifully
Priceless
Total value $ 1,650
Get Started Now
Buy Paganini for Beginners
Lifetime access for just one payment of $ 222
$ 158 USD
Secure checkout
with credit card or Paypal
Risk free
100% satisfaction guarantee
Paganini for Beginners works!
here's what our students say:
My playing has improved more in a few weeks than normally in a whole year!
The focus on chords is an eye-opener. I noticed already in the second week an improvement in pitch. Why has no one told me before?
Also the way of studying velocity has helped me, especially in orchestral playing, and that in just a few weeks.
Through the highly structured approach of the assignments my playing has improved more in a few weeks than normally in a whole year.
Now that I am getting older, it is essential to keep my left hand flexible and not to stay away from the fourth finger. The stretch exercises as daily warming up I plan to keep doing for the rest of my life as an amateur violinist.
I'm a busy person, with a job, a board position and a concertmaster position in an amateur orchestra, so daily practice is not an option. That's why online courses are perfect for me, because I can follow them at my own pace. Instead of rushing things to keep up with the schedule of the course, I do the assignments just as solid, but spread over a longer period.
The first three videos alone are almost worth the cost of the course.
I have been struggling quite a lot with my thumb in particular and in less than four minutes Vivien has helped me ENORMOUSLY. The first three videos alone are almost worth the cost of the course.
I am currently RElearning the violin after a "break" of more than 30 years — I played from age 6 to age 19, quit in college, and now in my 50s have picked it back up again. None of my teachers EVER told me that the angle of the violin and the position of the thumb should depend on my body, or suggested that I think of my body as part of the instrument. They have all insisted that there is only one "correct" position (and disagreed about what it was, lol). This is INCREDIBLY helpful! I'm going to try playing without a shoulder rest, which I never had the courage to attempt before.
No more pinky problems!
Paganini's Secret has been a blessing to my journey in playing the violin. My fourth finger has always struggled to make it far enough to have good intonation without sliding my entire hand which just made it less accurate so I would have to adjust for intonation anyway.
The Paganini style exercises I have learned so far have really improved my flexibility between each of my other left-hand fingers and my pinky. One amazing struggle I have overcome is going down on a scale and transitioning from first finger on the higher string and playing pinky on the next string instead of the open string. Now I can keep my first finger down and place my pinky on the lower string in the correct position for a much smoother scale.
Another thing I have started to improve is placing my left-hand fingers in a bent position that doesn't touch the other strings, especially on the G-string. This has enabled me to have an easier time playing double stops.
All in all, my left-hand feels much more relaxed and in control. It's a great compliment to Bow Like a Pro because it really tackles all the left-hand technique issues for the whole package.
I can't wait to get to the next modules and I am super excited to learn how to play Paganini's 24th caprice. What an accomplishment that will be!
Blessings,
My private teacher noticed my improvement!
I have struggled in my violin journey with not getting my low 2 notes, low enough. The stretching exercises are helping this already, I am much more aware of how low, low 2 is and there for, I am improving getting these notes in tune, and I believe with continued work on the exercises my fingers will be more physically able to manage the reach.
My private teacher has noticed in my lessons that my hand frame has improved, and I can say that the pizzicato exercises is making this happen. The chord exercises are helping me improve my ear.
With this program and Bow like a Pro I can't help but be motivated to improve!
Happy Student!
After about two months when I opened my eyes I see different fingers, it looks like a violin left hand that be able to do things some violinist only can do after many years.
Vivien created a really wonderful program for the left hand, called the Paganini's Secret. Sometimes in life one faces a difficult obstacle, sometimes one that even after 10 or 20 year trying, one can't overcome alone.
One encounters a wise or great person in our case a unique teacher. One commits, "closes once eyes" follows their advice through, even if it's hard. Stick it through no matter what.
After some time a new path is found, a door is opened, one would have never found by oneself.
It's not for no reason that most people quit the instrument they love and have a passion for within the first 2 years.
In theory some people say one can learn violin by oneself. In practice, I don't think it's possible.
One need to have a good teacher. Most important!
Good news, you don't have to search further they are right here:
Vivien and Zlata are one of finest master teachers for the violin. Not only will they get you results: they are very pleasant, dedicated, patient, friendly and open-minded people. No matter your age or background. They will set you in the right mind frame and help you stay motivated and happy even in the most difficult violin times.
I'm not saying that the program is easy but one closes once eyes, listens and follow very carefully their instructions, sticks it though; I can report for myself after 30 days of practicing sessions, having had a small glimpse on my progress, I saw major improvement.
After about two months when I opened my eyes I see different fingers, it looks like a violin left hand that be able to do things some violinist only can do after many years.
The time frame varies slightly depending on one hand previous abilities, level of violin playing and sticking and following exercises though.
It does not really matter if it a bit more or less time.
What I'm saying, it might not be easy but well worth it.
Questions you might have…
How does this course compare to Paganini's Secret?
Paganini for Beginners is Module 1 and the Posture module of Paganini's Secret. Paganini's Secret builds on that and goes on beyond Module 10 all the way to learning to play Caprice 24. If you're a student inside Paganini's Secret, you don't need to buy Paganini for Beginners as you already have access to this. If you're in Paganini for Beginners, you can upgrade to Paganini's Secret at a discount if you wish.
Can I join this course as a beginner violinist?
YES! If you have no experience at all on the violin, I recommend to combine this course with my free beginner course. There you'll learn all basic skills on the violin and note reading. You'll probably take longer to finish this 14 week Paganini for Beginners course, but you've got lifetime access, so you can learn at your own pace. All the exercises are made to be executed by beginners. We have sheet music downloads with fingerings and you can follow along the finger close up videos that you can play at any speed.
Most important is that you have an open mind for learning new things, learn well independently and are disciplined by nature. This program is a shortcut, but it's not easy. It will ask persistence.
What pieces will I learn in this course?
This course is about honing your technique and gives you technical exercises and etudes. This course is not about learning repertoire.
How much do I have to practice every day?
The exercises of this course ask about 15 to 30 minutes of daily practice on the exercises given in this course. You will notice that you'll get tired faster than practicing 'the ordinary way'. After that you can resume to the repertoire you already play or combine it with Zlata's free beginner course.
How long does this course take?
The fastest route is 14 weeks, but we highly recommend repeating the exercises longer. This course will give you a great technique practice routine which you can use for way longer. 
I already have a violin teacher. Will this course interfere?
In contrary! In my violin journey I've had different teachers and followed various courses and masterclasses. This has been very valuable to me. Imagine how wonderful it would be to surprise your teacher with some fast improvement in your left hand technique and intonation.
I'm very busy! Is it wise to join now?
You have lifetime access to the course and can follow along at your own pace. You can even decide to start later. This particular offer at this particular price is only available for a very short time.
Is sheet music included in the course?
Yes, all exercises given are guided by sheet music. This sheet music is exclusively written for this course and nowhere else available. Fingering is written in for those who are not so proficient in reading notes.
How does it work after I pay?
After payment, you instantly have access to the member's area where you can watch the videos, download the practice plans and sheet music and ask questions and feedback.
What technical skills are required to follow this online course?
Not so techy? No worries! If you can watch my YouTube videos or simply visit a website, you can follow along this course. Also we're happy to help if you get stuck.
How much access do I get to the teachers for individual guidance?
You can ask questions by e-mail or in the comment sections inside the program and send in videos of your playing for feedback. There are no 1 on 1 live lessons included in the tuition. All lessons and guidance are related to the exercises given. For example if you want help with a specific piece outside this course, this is not included.
Can you learn to play the violin online?
Yes! Zlata has been teaching online and offline over 10 years and has seen time after time how students can breakthroughs online. You can access your teachers and the materials 24/7 and know exactly what to practice each day.
When do I get access? How long?
You have lifetime access. You get future updates and additions at no extra charge. Lifetime means as long as I'm actively selling this course. In case I retire for whatever reason, you will get the possibility to download all materials.
Can I download the video lessons?
For the best learning experience we have chosen for streaming videos, just as Zlata's YouTube videos. This does mean that at all times you need an internet connection to consume the content and you can't download the videos to watch offline.
Get Started Now
Buy Paganini for Beginners
Lifetime access for just one payment of $ 222
$ 158 USD
Secure checkout
with credit card or Paypal
Risk free
100% satisfaction guarantee
Questions about this course?
Zlata is happy to answer and help you make the best choice for you!