Yes!


You can master the art of


bowing 

and play the violin beautifully!
A professional sound is a set of skills YOU can learn.
But you need to know exactly how to practice these skills!
Lost in the violin technique and miss the feels?
You learned so much and practice hard, but you can't get the sound and expression you desire.
Your bowing technique is behind on your general playing level
Your right arm and bow are sometimes out of control, you don't know what technique to use in your orchestra and you don't like your sound.
You feel so much for the music you make, but you can't get that out of your violin
You're struggling to play the right notes in the right rhythm, while you want to play with freedom.
Your teacher can't help you
She tells you to practice harder or imitate her. You've probably already discovered that doesn't work.
You think you just lack the talent…
Imagine your favorite violin soloist:
What skill would you desire most for yourself?
Chances are you desire the beautiful sound, the clear resonance, the artistry and expression.
Think about it… it matters more HOW you play than WHAT you play…
That's tone creation, bowing technique and musicality!
Do you think you lack the talent to sound like a professional violinist?
Bowing technique is the number one struggle of violin players on all levels!
Here's the problem:
Violinists of all levels have no clue how to practice their bowing and tone creation specifically. They hope a beautiful sound will come naturally with a lot of practice.
The problem is that there are hardly teachers around who know how to teach this. Yes, your teacher knows how to do it herself, but showing you how to learn it step by step is something completely different.
Do you think you lack the talent to sound like a professional violinist?
Bowing technique is the nr 1 struggle amongst violin players of all levels!
Here's the problem:
Violinists of all levels have no clue how to practice their bowing and tone creation specifically. They hope a beautiful sound will come naturally with a lot of practice.
The problem is that there are hardly teachers around who know how to teach this. Yes, your teacher knows how to do it herself, but showing you how to learn it step by step is something completely different.
Meet the 'Bow like a Pro' teacher team!
Zlata Brouwer
Founder & teacher
Professional bowing technique and tone creation are learnable skills and I'm looking forward to teaching you exactly how. Besides being a teacher specialized in bowing and tone myself, Bow like a Pro's guest teachers are top soloists sharing their secrets. Also we take countless examples from the greatest violinists of all time and break down how it's done and how you can do it too.
Zlata Brouwer
Anastasiia Mazurok
Concert violinist & teacher
Since her orchestra debut at the age of thirteen Anastasiia tours the world as an upcoming violin virtuoso. She is a prize-winner at various international competitions. She graduated with honors from the Rimsky Korsakov musical college of Saint-Petersburg and now studies at the famous Juilliard School in New York.
Anastasiia Mazurok
Antal Zalai
Concert violinist & guest teacher
"An exceptional violinist, who has perfect technique, beautiful large tone, real musical finesse and maturity as well as noble personality," said legendary Russian violinist Igor Oistrakh of his Hungarian colleague,  Antal Zalai, who is fifty years his junior, and who is regarded by his international fan base as an outstanding artist representing the apogee of classical violin playing.
Antal Zalai
Join my online masterclass program
'Bow like a pro'
Learning online is extremely effective…
24/7 Access to your violin lessons
Mobile and tablet friendly
500+ Pages of Sheet Music
Unlimited personal guidance
40 Week daily practice plan
Masterclasses by concert violinists
Module 1:
Master the Basics of Bowing
You can dive into advanced bowing techniques, but you'll plateau when your basic bowing technique isn't on a high level. Advanced students, even on conservatory or professional level, go back to the basics on a regular basis.
A true master shows in the basics!
This module is suitable for beginners, but also for professional players and everything in between. You can always improve your basic technique and will benefit from it in everything you play.
You'll learn:
Motor skill exercises to learn the techniques without the violin and bow: my students are so enthusiastic about the direct impact this has on your playing
Bow hold: perfecting your bow hold and making ik soft and flexible is a prerequisite for all bowing techniques
Bow smoothly: learn to make fluent motions and smooth string changes, so your violin (and bow!) can resonate optimally and make a beautiful sound
Whole bow: learn to master the whole bow and be able to create a good tone on every part of the bow, no more frog fear!
String crossings: learn the techniques to make fluent and controlled string crossings in any speed
Module 2:
Create a Beautiful Tone
In this module you learn the secrets of a professional sound that make your violin and bow resonate optimally.
Also you learn how to pour artistry and expression in your playing by coloring your sound and dynamics in different ways.
You'll learn:
Beautiful sound with core: here you'll learn the secrets to a professional sound on the violin and how I can easily distinguish an amateur from a professional in my violin studio, all with examples of etudes and pieces
Differences per string: every string needs a specific way of bowing and I'll teach you all about it
Pivoting the bow: when, how, when not, what's the difference? Learn everything about tilting the bow
5 Contact Points: learn all about the sounding points on the string, when to use what and how to apply switching between sounding points in your playing so you can color your tone
Beautiful dynamics: here I'll explain all about the 5 (five!) ways to play loud and soft on the violin, the differences and how to apply phrasing and dynamics in general, all with examples of etudes and pieces
Solve tone problems: recognize issues in your tone and learn how to correct them
Module 3:
Unveil the Spiccato Secrets
All advanced bowing techniques are based on a good smooth bowing AND a good control of a jumping bow.
In this module you finally learn a spiccato with a good sound in any speed.
Spiccato Skills: learn how you can work together with your bow to create a controlled spiccato in any speed and with a beautiful sound, crystal clear exercises and practice instructions
Spiccato Schedule: an exact curriculum that makes it possible for everybody to learn a professional spiccato… yes, it requires some work!
Learning Spiccato: learn more in depth how to get a flexible spiccato you can adjust to the piece you play
Spiccato with Ševčík: with the included books you can get even more handy with spiccato so you can apply it anywhere
Module 4:
Learn ALL Bowing Techniques
This is the heart of 'Bow like a pro' and the largest module.
In this module you learn ALL possible bowing techniques possible on the violin in classical music.
You'll learn 3 types of detaché son filé, legato, portato, several kinds of bowing in chords, 3 types of martelé, fouetté, collé, solid/upbow staccato, flying staccato, spiccato, sautillé, flying spiccato, ricochet, jumping arpeggio and more!
My instruction videos are guided by videos of the world's greatest solists performing these techniques on stage in real concerts.
I'll show and explain all possible bowing techniques on the violin and I give you crystal clear daily exercises, scales, etudes and pieces on beginner, intermediate and advanced level so YOU can apply the bowing technique on your current level.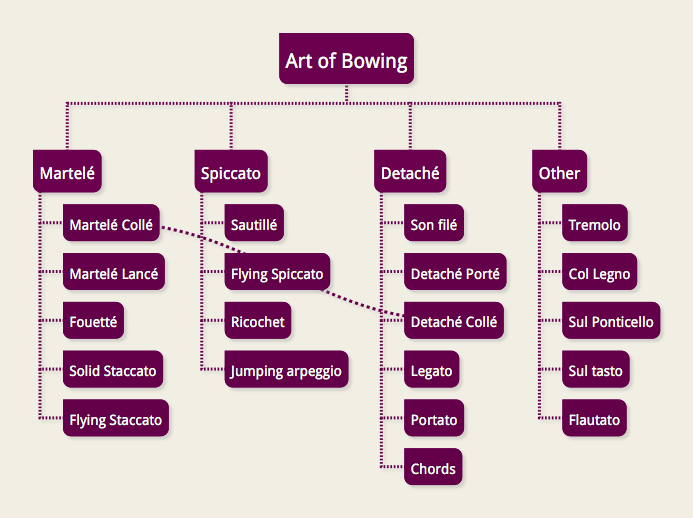 Module 5:
Express Yourself in Phrases
Develop your musicality to play the music you love beautifully
In this module we put everything together you've learned about tone production and bowing technique.
Our guest teacher and international concert violinist Antal Zalai teaches you all about telling your story in music. You'll learn how to express the emotions you feel through the violin.
'Bow like a Pro' creator Zlata Brouwer teaches you the fundamentals of phrasing, how you can recognize musical sentences and how to make musical sentences using dynamics, bow division, timing and vibrato.
You'll learn how to go from playing notes to expressing emotions, telling a story and making your music unique.
From now on 'Bow like a pro' will guide you daily during your entire violin journey!
The masterclass program is made to combine seamlessly with your current practice and lesson routine.
You can watch the videos and do the exercises WHEN you want and WHERE you want. You've got a 24/7 violin teacher.
30 Day Satisfaction Guarantee
The full risk is on me.
That's easy for me to promise as I'm certain that 'Bow like a pro' can teach you ALL about bowing technique and tone creation and will solve your problems. Also I'm committed to get your violin playing to the next level.
Here's how my guarantee works: If you remain having the same problem with your bowing technique, but you've watched all applicable videos and have done the work in terms of practicing and you can prove this to me with a daily practice journal and a video of your practicing, I'll first help you with personal practice instructions. If you then prove you've followed my instructions, but they don't work (they will, but I want to give you certainty), I will give you a FULL refund of tuition if this all is within 30 days of enrollment.
However: I'm not going to pay for your lack of discipline or 'I know it all' mentality. If you're not willing to invest the time and effort, take instructions and do the work necessary to get the results you want, I'm not going to reward it. That's not in line with my integrity as a violin teacher.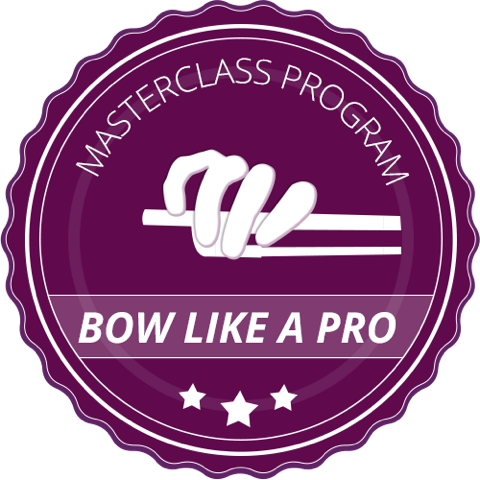 A lifetime investment in your violin playing
Best deal
One payment of $ 997
Most flexible
12 Monthly payments of $ 97
Bonus:
Free your Vibrato
Valued $ 297, included in Bow like a Pro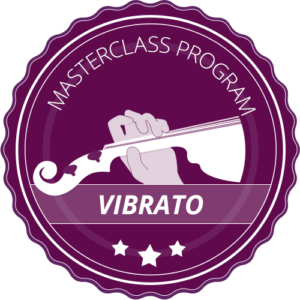 Enroll TODAY in 'Bow like a Pro' and get 'Free your Vibrato' for FREE!
A full course on left hand technique, articulation and vibrato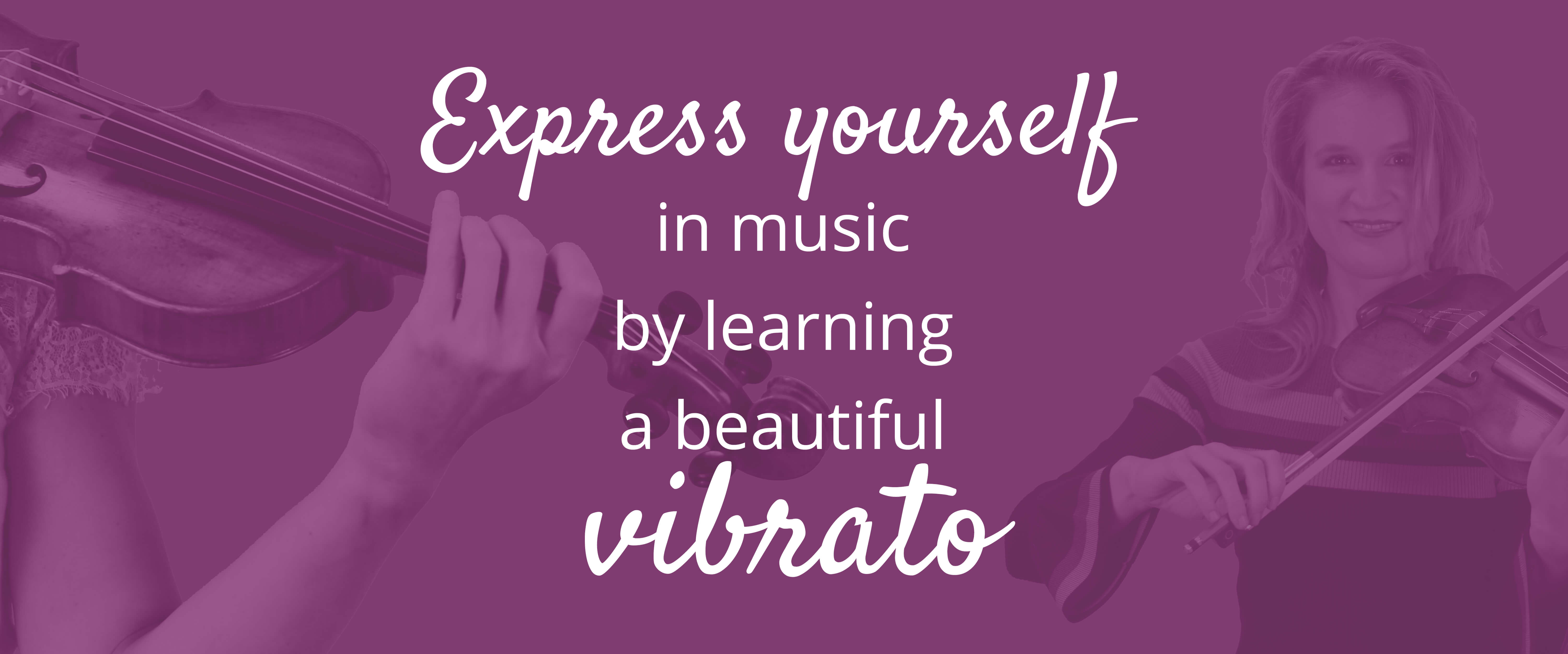 To teach you the left hand side of a gorgeous sound, we include 'Free your Vibrato' worth $ 297
You'll learn:
A balanced and relaxed violin hold with which you can play comfortable as long as you want and create a good sound
How to improve your intonation (play in tune) and get a clean articulation with a good left hand technique (this has transformed my own playing and made so many things a lot easier)
A lot of exercises to learn vibrato in a step by step and fun way. You'll know exactly what to do to get a gorgeous vibrato.
A schedule to get control over your vibrato, so you can get exactly the sound you want when you want it
To apply vibrato as a tool for expression in the music you love
First off, thank you so much for all that you have put together to help people learn to play the violin. I first found your free lessons, then the weight vs pressure workshop, and then I took your offer for the lifetime access. Every step of the way I found that if I listened and did as you suggested my playing improved, usually dramatically.
If I knew anyone trying to learn to play the violin I would certainly tell them about your site and stress to "Do what Zlata says!" I still recall the first time I was sitting on the sofa watching TV rolling a stress ball around in my fingers, manipulating a chopstick (I can never find a pencil…), and bowing through a toilet paper roll when I decided that enough was enough and I picked up the violin to see if had made any difference at all.
So I grabbed the bow (using the method you showed me), picked up the violin (like you showed me), and played open strings (like you said to do). The difference was immediate and dramatic and I have not doubted you since. (Not that I doubted you anyway, you're simply too happy and direct in your videos to distrust.
Steve Wallace
It is a wonderful opportunity for me to improve my violin playing and technique. The more I follow your videos the more I see great results. I am really motivated and practice every day, working on your instructions.
Your video instructions are very clear, concise and easily understood. I can replay the videos again and again which is very helpful. Being able to stop the video at any point in the instruction I can learn how to do that particular technique on my own until it is correct.
I see a huge improvement in intonation, bowing accuracy and a lovely volume as the bow passes over the strings. I look forward to each new video lesson but I make sure that I do not move on until I have mastered the previous lesson.
Thank you again, you have taught me how to make beautiful music with confidence.
Linda
Dear Zlata,
I just noticed the e-mail you sent asking for feedback about the violin academy. So, I figured it's high time I wrote and told you about what I've been learning 
 I've just been so blessed by your academy. You've given me back my joy in playing violin. 
 Violin is so much more enjoyable when I play in a relaxed way! 
First of all, I took lessons when I was younger for about 6 years. Then I graduated from high-school and got busy and didn't play violin very much for 1 1/2 years. Well, I stumbled across your violin academy about 1 year ago. It has been AMAZING! I am such a visual person and getting to watch the videos helped immensely. I soon realized that the things I struggled the most with were the basics! As I watched the beginning videos, I soon saw how many bad habits I'd developed. Your videos have helped me so much! Some of the bad habits I mentioned was how I held the bow, my posture, how I moved my wrist and arm….well, I started doing some of the exercises for the left and right hand and my playing has improved SO MUCH. At Christmas time I played a hymn for our church's annual Christmas program. Normally, when I'm in front of people my hand and wrist tighten up from nervousness and the violin squeaks and sounds horrible. Well, I'd been doing some of the exercises and my arm and wrist were all relaxed~ and when I played violin in front of everyone…it went great! I was able to have good tone and there were no squeaky noises.
Thank you so much, Zlata for violin academy! I'm so thankful to God for you and for all you do to help violin players like me! You are much appreciated!
Well, that's my testimony of how you have helped me so much!
Well, thanks again!!!
Rachel Mitton
Zlata's academy has taught me to love playing the violin. Zlata really emphasizes sounding good and enjoying what you play. She teaches the basics with the focus of producing enjoyable music. Her cheerful personality and encouragement make her videos pleasant to watch. She has been very helpful and kind when she reviewed the videos I've sent her. The combination of her helpful online tutorial videos and her focused comments about my playing have produced instant improvement. I estimate that I now sound twice as good after only 6 months of Zlata's academy.
I tried many other online schools. Other teachers seem to have one solution to every problem–PRACTICE MORE! They seem to say that success is being a 'serious,' very disciplined musician, who obviously…practices…a LOT. Yes, Zlata acknowledges the importance of practice, but she clearly wants students to enjoy their practice by playing well and sounding lovely. I will never be a soloist, but I will be a true 'amateur,' i.e. one who 'loves' what they do.
After all, who hears most of what I play? I am really the only one who hears the hours of practice. I might as well enjoy the music I make. Zlata's academy has polished my technique and basics and my sound improved across the board. I find it easier to focus on what I'm playing, to improvise, and build my repertoire because I feel so much better about my playing.
Thanks, Zlata!
Blair Faulk
I'm so happy that I decided to share with you my results. I started doing the right hand motor skill exercises.
After two weeks practicing them on my free time at job or anywhere else, I went to my teacher and he asked me to play lesson 11 from hans sitt book 1. Which I'm struggling for 3 weeks, and I'm not confident on this piece.
But he said me that besides left hand's problems I had my wrist completely relaxed and in a perfect movement. I didn't believe on that and he recorded me playing to show me how good it was. And I saw a perfect bowing coming from me unconciously!
I'm really proud of your classes.
Emanuel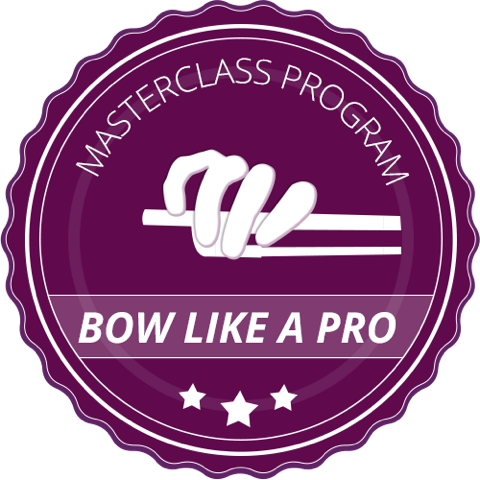 A lifetime investment in your violin playing
Best deal
One payment of $ 997
Most flexible
12 Monthly payments of $ 97
Frequently asked questions
What do you get exactly in 'Bow like a Pro'?
150+ instruction video covering all about bowing technique and tone creations and even more performance videos
Downloadable practice plans for each topic, so you know exactly what and how to practice on a daily basis
500+ pages of downloadable etude books to apply the techniques you learn
Fun quizes to test your knowledge
Lifetime access including ALL future updates and additions to this masterclass program
All this in an user friendly and safe online learning environment you can access from your computer, tablet and phone
Access to a private Facebook group to ask your questions and meet your fellow students
Is Bow like a pro suitable for beginners, intermediate, advanced or professional violinists?
Bow like a pro starts with the basics of bowing. Besides that you've got lifetime access, so you can consume the more advanced stuff when you're up to it. Because the program is so complete, 'Bow like a Pro' is suitable for:
Beginner violinists who want to get rid of their 'beginner sound' as soon as possible and learn a good bowing technique
Intermediate violinists who want to know what and how to practice to improve their bowing technique and get rid of the 'amateur sound', so they can pour artistry and expression in their playing
Advanced violinists who want to learn all possible bowing techniques, so they have a professional level toolbox to color their sound
Professional violinists and violin teachers who want a structured overview of everything around bowing technique and tone production, so they can enhance their own skills and know exactly how to inspire their students
Do I get 1 on 1 lessons with Zlata?
I'll personally guide you through the program, which gives you crystal clear practice instructions. I'll be there for you in the Facebook group to answer your questions and give feedback on your playing. The more you practice, the more personal guidance you get! Also there are surprise group coaching sessions and lessons. No worries, I'll hold your hand and make sure that beautiful vibrato will be yours!
How does an online masterclass program work?
After processing the payment you get a personal account with which you get INSTANT lifetime access to all videos, books, practice pland and quizes in the online academy. It's very easy to use and suitable for computer, tablet and smartphone.
Can you learn to play the violin online?
First of all our students get great results and we take the risk of your investment with our 30 Day Money Back Guarantee. Being able to play the videos over and over again as many times as you like is like having a 24/7 teacher at hand… for life!
Can you help me if I can't afford the tuition?
How is 'Bow like a Pro' different than 'Violin Lounge Academy'? Is there overlap?
'Bow like a Pro' is a completely separate stand alone program. It's all new material and there's no overlap in the videos and other materials. Bowing technique and tone creation are covered in the VLA, but 'Bow like a Pro' is much more in depth and complete. The two can supplement each other nicely or be taken separately.
Do you offer refunds if I don't get the promised results?
We only want happy students who get great results, so we offer a 30 day 100% money back guarantee to those who can prove in a live session that they implemented the instructions and practiced but didn't get the results.
When do I get access? How long?
Right after payment you can INSTANT access to EVERYTHING in Bow like a pro… lifetime! You can come back whenever you want.
Is Bow like a pro suitable for the viola or cello?
All instructions, repertoire and example are aimed at the violin.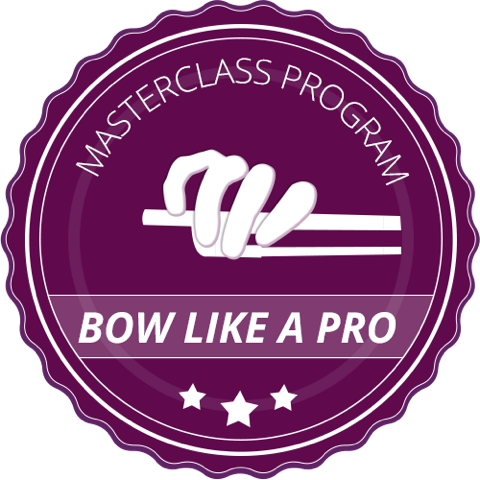 A lifetime investment in your violin playing
Best deal
One payment of $ 997
Most flexible
12 Monthly payments of $ 97