Online Course & Community
for Solo Violin by Johann Sebastian Bach BWV 1001-1006
"Study Bach: there you will find everything." – Johannes Brahms

ALL virtuoso violinists have only ONE thing in common:
They intensively study Bach violin solo works
and recommend their students to do the same
rather special as violinists and teachers tend to disagree on about everything
from violin hold, way of bowing, whether you should study Flesch or Sevcik scales and the list goes on and on
Despite many differences, they all agree that you CAN NOT miss studying Bach
if you're anywhere serious about learning the violin
I haven't studied violin technique since I took private lessons when I was in high school some fifty years ago. I've played my violin occasionally throughout the years in church, pit orchestras for musicals, and community orchestras.
After watching several videos Zlata had posted with helpful bowing tips, I decided the Bach course would be a great Christmas present. I started practicing the Presto movement from Sonata 1 which has helped improve my bowing technique when crossing strings. Although I am not yet playing it at presto speed, the piece still sounds nice as my tone and bow control improve.
Zlata posted a video of a student playing the Fuga and provided feedback and tips on how to practice some passages. Although I usually avoid studying pieces with double and triple stops, after watching the learning videos I decided to study the Fuga. Zlata provided a great video of chord technique which has helped me to play the chords in this piece.
Antal, a professional violinist, has posted teaching videos and recordings for each movement which is very helpful when practicing. By studying these teaching videos, I'm playing pieces that I never could have tackled on my own. Even though I'm playing the pieces at a slower tempo, both my left hand technique and bowing technique are improving. The best part is that I enjoy practicing because Bach's music is so beautiful.
I really enjoy this course on Bach's Sonatas and Partitas. I've been working on Partita 2 Gigue. It has really helped me with control of the bow and quick and accurate placement of my fingers with the left hand.
I also like how the lessons have Soundslice files which allow you to listen slowly until you get the piece and then gradually speed it up.
Additionally it helps when people send in videos for "feedbach" because we all can see that feedback and apply it to our own playing as well.
This course is great for improving your playing skills and continues to grow as the teachers add more lessons to it all the time.
I'm honored to collaborate with concert violinist Antal Zalai. His romantic traditional interpretation of Bach's sonatas and partitas for solo violin is one of my favorites and I'm looking forward to learn from him together with YOU!
Exclusively for Violin Lounge Antal has created an inspiring video curriculum covering ALL the technical and expressive skills required to play Bach's sonatas and partitas beautifully.
Join our community of Bach loving violinists!
I know nothing which improves your violin technique as quickly and consistently as practicing Bach: intonation as well as bowing
Despite these works as seen by many virtuoso violinists as the most difficult pieces for the violin, certain movements should be studied early in your violin journey. Just practicing them, perhaps without being able to play them at the speed modern performers do, has tremendous technical benefits. It's great about Bach that it sounds great at any speed. Very unique!
Bach Benefits
* A TON of beautiful solo repertoire to play
* Better intonation
* Better bow control and sound
* Be part of a growing community
* Playing Bach makes you happy and relaxed
This could be you:
Playing Bach skyrockets my violin technique!
Practicing the sonatas and partitas improves my intonation, bowing and sound every time I get back to them
Practicing isn't lonely for me as I'm part of this wonderful community
I can finally play Bach thanks to these clear lesson videos breaking down all aspects in manageable pieces. Fits my busy schedule!
Bach just organizes my brain and makes me happy
Learn from the comfort of your own home
24/7 Access to your violin lessons
Mobile and tablet friendly
Zlata Brouwer
Violin Teacher
I started studying the easy movements of Bach's sonatas and partitas as a child. This means I'm studying these monumental works for over 20 years. Every time I come back to them I discover something new.
The six sonatas and partitas by Johann Sebastian Bach guided me through my teenage insecurities, warmed my heart as a lonely single in my twenties and today they keep me sane as a mother of three young kids.
Playing Bach cleans up my violin technique, my heart and my mind
Bach's sonatas and partitas are a very special part of my life
I want to share this joy with YOU!
I'm so excited to have founded this Bach course and community. Let's learn from each other, exchange ideas and support us on whatever level you are.
If you play solo, whether it's on stage or for friends, Bach's sonatas and partitas are the go-to repertoire. It's great to have them in your repertoire.
Antal Zalai
Concert Violinist
Antal made one of Zlata's favorite recordings of the 6 sonatas and partitas for solo violin by JS Bach. Also he recorded all 24 Paganini caprices in between touring the world soloing with top orchestras.
"An exceptional violinist, who has perfect technique, beautiful large tone, real musical finesse and maturity as well as noble personality," wrote legendary Russian violinist Igor Oistrakh of his colleague, Antal Zalai, who is fifty years of his junior, and who is unique among his fellow violinists with his characteristic tone, mature musical phrasing and elegant virtuosity. 
Antal teaches the core curriculum and breaks down exactly how to play every single movement of the 6 Sonatas and Partitas.
Vivien Hoffman
Concert Violinist & Zlata's Teacher
Vivien studied Bach violin solo works with various violin teachers from the romantic as well as the historically informed performance tradition, but also composers and musicologists. She adds very interesting details and non-conventional ideas to your interpretation.
Vivien Hoffman started violin lessons at the age of five and began her studies at the Universität der Künste in Berlin at the age of nine. She continued her studies with Ruggiero Ricci at the Mozarteum in Salzburg and at the Hochschule für Musik 'Hanns Eisler' with Professor Werner Scholz.
Vivien is a rare gem: an international concert violinist with a pure and romantic interpretation style, who knows how to break everything she learned from great masters down into easy to understand lessons and step by step exercises.
Get Started Now
Choose the Bach plan that works best for you:
Best Deal
One Payment of $ 555
$ 333 USD
Payment Plan
6 Monthly Payments of $99
$ 59 USD
Secure checkout
with credit card or Paypal
Risk free
100% satisfaction guarantee
Let's sum it up
here's what you'll get in my bach course
Exclusive video lessons by Antal Zalai on ALL 6 Sonatas and Partitas by JS Bach
Valued: $ 1,500
In depth video lessons by Zlata Brouwer and Vivien Hoffman added continuously
Valued: $ 1,500
Dynamical sheet music and backing tracks for effective practice
Valued: $ 300
Ask your questions
Valued: $ 600
Total value $ 3,900
Get Started Now
Choose the Bach plan that works best for you:
Best Deal
One Payment of $ 555
$ 333 USD
Payment Plan
6 Monthly Payments of $99
$ 59 USD
Secure checkout
with credit card or Paypal
Risk free
100% satisfaction guarantee
Questions you might have…
Is my violin playing level advanced enough to join?
Studying Bach is a MUST if you're anywhere serious about learning the violin.
Although the Chaconne is known as the Mount Everest of violin playing, there are many movements inside the sonatas and partitas that are possible to play with little experience on the violin. Some are in first position.
Check out this piece of sheet music: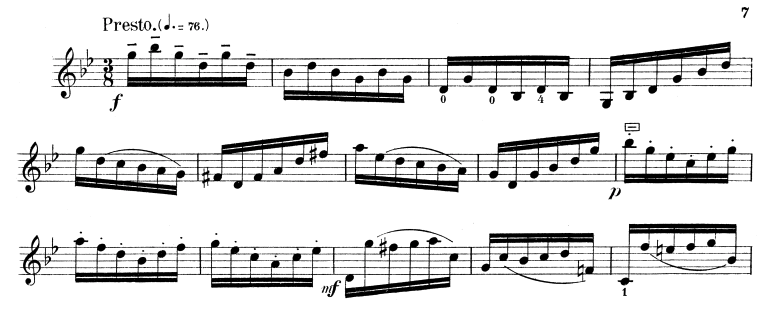 and this:

Do they look doable for you? Welcome to the course :). You may not be able to play all movements, but you have lifetime access, so you can enjoy the difficult ones later in your violin journey.
I'm a complete new-be to the violin. Can I join?
If you haven't started playing the violin yet, this is not a course that will teach you the violin from scratch. If you have no experience at all on the violin, I recommend learning the basics first for example in my free beginner course. 
This Bach course assumes that you can already read notes and you have some basic skills in the violin. You are most welcome to join even in the beginning stages as it's possible to benefit from studying Bach relatively early in your violin journey. See the question above to see some snippets from easy movements.
I already have a violin teacher. Will this course interfere?
In contrary! In my violin journey I've had different teachers and followed various courses and masterclasses. This has been very valuable to me. Your teacher will be happy that you do this deep dive in Bach's sonatas and partitas as it will benefit all aspects of your violin playing.
I'm very busy! Is it wise to join now?
You have lifetime access to the course and can follow along at your own pace. As a mom of three young children I know that life can get in the way, so no sweat if you take your time. This course is an investment you can enjoy whenever you want.
Do I need a baroque violin and/or bow?
No, this course is not about historically informed performance (HIP). It's about learning the piece on a normal violin in a traditional romantic interpretation. We will honor the urtext and the meaning of Bach.
Is sheet music included in the course?
Yes, sheet music downloads are included in the program. We use dynamical sheet music with the Soundslice software, so you can play along with Antal's performance at any speed. All the sheet music is printable.
What will I get exactly when I enroll and how does it work?
You get instant access to Antal Zalai's video curriculum on the FULL 6 Sonatas and Partitas by JS Bach BWV 1001-1006. Vivien Hoffman and Zlata Brouwer will continuously develop more curriculum. You can play along Antal's performance videos at any speed with the dynamical sheet music.
What technical skills are required to follow this online course?
Not so techy? No worries! If you can watch my YouTube videos, you can follow along this course. Also we're happy to help if you get stuck.
How much access do I get to the teacher team?
You can ask questions in the comment sections inside the program.
Can you learn to play the violin online?
Yes! Zlata has been teaching online and offline over 10 years and has seen time after time how students can breakthroughs online. You can access your teachers and the materials 24/7.
When do I get access? How long?
You have lifetime access and get future updates and additions at no extra charge. After payment you have instant access to all Bach courses. Lifetime access means that you have access as long as this course exists and is actively sold.
Get Started Now
Choose the Bach plan that works best for you:
Best Deal
One Payment of $ 555
$ 333 USD
Payment Plan
6 Monthly Payments of $99
$ 59 USD
Secure checkout
with credit card or Paypal
Risk free
100% satisfaction guarantee
Questions about this course?
Zlata is happy to answer and help you make the best choice for you!